In the National Football League, you have great players, good players, O.K. players, and bad players, but my favorite type of players are the ones who will go out and hit you right in the mouth. This article is part one of a three-week series discussing a team just filled with the hardest hitting, trash talking, badasses to ever grace the league with their presence. Offensive players may have a hard time being seen as a badass, but when you are, you are and it is easy to see.
QB: Aaron Rodgers
Love him or hate him, Aaron Rodgers deserves this spot on this list. Rodgers isn't only an amazing QB, but has shown numerous times of his extreme "confidence". Most notably is whenever the Packers kicked off their season 1-2 and fans were questioning Rodgers skill. He responded with famous response, "R-E-L-A-X", and the fans were being "idiotic". Now this may be considered a douche move, but common, its Aaron Rodgers, of course he is good. Rodgers also lets everybody know when he scores or throws a touchdown. I have always found Rodgers field antics to be in you face and funny as hell.
Half Back: Marshawn Lynch
Honestly, is this a surprise to anybody? I sat here and tried to think of a person more badass than Marshawn Lynch. This guy is an extremely skilled running back with the loudest, most in your face attitude in the league. Lynch has a list of highlights and even more hilarious but savage moments off the field. (MUST WATCH)
The thing I love most about Lynch is his love for Skittles. His motivation to score besides winning is skittles. Every time he scores he gets a pack of Skittles. His love for skittles does not stop there. Lynch even has a huge skittle machine in his house in which you can pick whatever flavor you want. Aside from that Lynch is also one of those the guys that he does not care to let you know he just shit all over your defense. See highlight for examples.
Wide Receiver 1: Randy Moss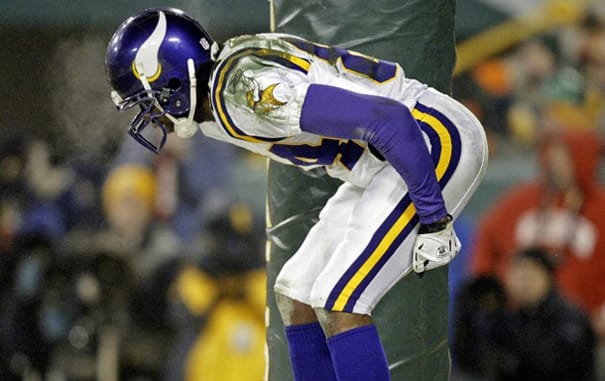 This is truly no surprise either. Randy Moss, in my opinion, is the best wideout to ever play the game. His breakaway speed, amazing hands, precise route running, and must win mentality. Those things right there did not earn this spot on the list, his ability to talk shit and play even bigger than his talk. Moss is the man and is a badass.
Wide Receiver 2: Chad Johnson (Ochocinco)
We may not see a wideout more badass than Chad Johnson. Johnson has been asked if anybody could guard him in his prime, and responded, "Maybe, God". Johnson would also look at their schedule, then write down the corner that would be guarding him, then once he went against them, he would cross them off (man was unguardable).
Let's move away from the field now. Johnson is absolutely hilarious. He may be the best follow on Twitter. He is not shy to tell off people who have anything negative to say to him. Johnson is seen even more now than ever before, and he manages to make me laugh at how badass he is.
Slot Receiver: Terrell Owens
Another undeniable badass. Owens is a crazy hated player, but he is good as hell. Every aspect of his game was fantastic. Owens seemed to have an impact on whatever team he was with. These three wide receivers were the easiest to put on the list, and you are going to have a hard time arguing with me.
While Owens was a fantastic football player, he was a badass with this crazy ego. The most badass moment of his career is when he scored against the Dallas Cowboys and ran to the center logo on the field to do his celebration. The only downside to Owens was his ego often ruined teams (Cough, cough, the amazing duo of him and McNab). Owens talked big and played even bigger.
Tight End: Rob Gronkowski 
Another no-doubter. Gronk plays football the way its suppose to and is making a dying position relevant again. Gronk is a larger than life human being with great hands, speed, run blocking, and crisp routes. Guy, plays like a man possessed almost week in and week out.
Gronk is a very in your face player. He will talk shit to you and your team from dusk until dawn and back it up. He truly does not care if what he does is controversial or not. Gronk does what Gronk wants. This Gronk's world and we just live in it.
Offensive Lineman: Mike Webster
The oldest on this list by far, but maybe the most deserving. Unfortunately, he was not in our time of watching, but after hearing about him and watching his highlights, this another no-doubter. The man put the definition of badass on his back. I am not sure how he was off the field, but this man defines hard nose football.
I hope you enjoyed part one of the All-Badass series. Thank you for spending a part of your Friday with me, and as always stay tuned for more fresh and daily content from myself and the rest of the Mid American crew.