Hello everybody and welcome back to the Mid-American page. It has been two days since head coach for the Ohio State Buckeyes, Urban Meyer, was handed a three-game suspension. This article is going to look into the whole situation and what it can mean to the program.
Former assistant coach, Zach Smith, was accused of domestic abuse against his ex-wife, Courtney Smith. This took place back in 2009 and again in 2015. Coach Meyer was made aware of the 2009 incident and reported it. However the most recent incident, Meyer did no report due to the fact he had no knowledge of what had happened. Courtney Smith reported the abuse to Coach Meyer's wife, and, from there, we have no clue if it ever got to Urban. Multiple reports have come about against Courtney Smith ranging from the Columbus Police Department and even her own family deeming her not credible. This story was broken by Brett McMurphy (joke) at the Big Ten media day. Here is the clip.
I believe if he would have answered the question better, there is no more to this story. There are many details that go into this story, and it would take away to hit every angle of this story. The meeting discussing Urban's future at The Ohio State University took a little under twelve hours. The only question for me is why did Urban have his messages whitewashed? Love and respect Coach Meyer, but makes you wonder if he should still be there.
When it was announced Urban was suspended three games, it was like Buckeye nation had lost its family dog. This fan base still has an awful taste in our mouths when it comes to interim head coaches from Luke Fickell, but this is way different. The first three games are Oregon State, Rutgers (lol), and #16 TCU in Fort Worth. The first two games, I do not believe will be a concern. However, TCU is a good program to test these young Buckeyes on the road. Our interim head coach for the three games is Ryan Day. Day has learned under Chip Kelley and Urban Meyer for years. He is also backed by a defense that could stop some NFL teams and a talented offensive group. His name has been muttered around the coaching carousel for years and will be looking to prove himself in the first three weeks. So, what I am saying is do not worry. I think we will be ok.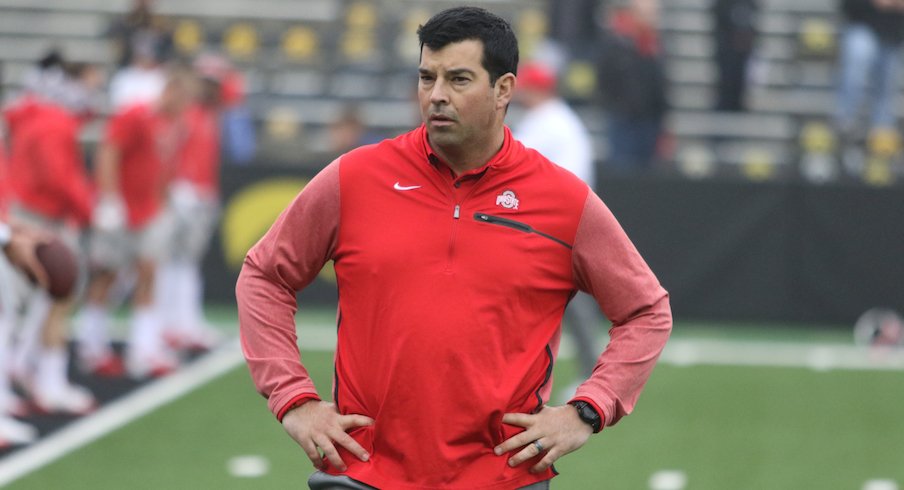 We also added former Buckeye and fan favorite, Brian Hartline. Hartline will replace Smith at wide receiver. The Ohio State culture means winning, integrity, and pride, and when I think of that I imagine Hartline. I feel the development of the young, but talented, wife receiving core will develop quicker under him.
How do you think the Buckeyes will do without Urban? Let us know in the comments! Thank you for spending apart of your Friday with me and the rest of the Mid-American crew. As always, stay tuned for more fresh daily content.